Welcome to our website! Take a look around, enjoy the pictures, and order your berries for the summer!
Berry Bounty Farms is a family owned and operated raspberry and blueberry farm in Chilliwack, British Columbia, Canada. The farm has been in the family for 4 generations.
We are looking forward to our 2018 season! The bushes are loaded with fruit and the bees have been busy pollinating. Dates are approximate at this time and we'll update the website as we can. We will also have unpasteurized honey available from our hive empty last fall.
To our Alberta customers: We welcome your orders and hope to bring fresh blueberries and frozen raspberries to you in July. Dates will be given when we know when we will be coming. Thank you for your support again!
Thank you to all our marvelous customers in both BC and Alberta for your support! We couldn't do it without you!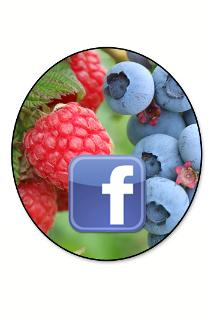 Find us on Facebook!
Click on the picture to find our Facebook page where we post the most up to date news. For every 100 likes on Facebook, we'll give away a box of blueberries!
Our winners so far are Joyce Beeke, Morgan Rosendal, Alisa Vanderkooy, Michelle McEachern, Miranda Hoeksema and our sixth winner at 600 likes is Katrina Maljaars! Congratulations!